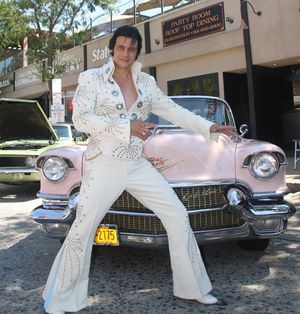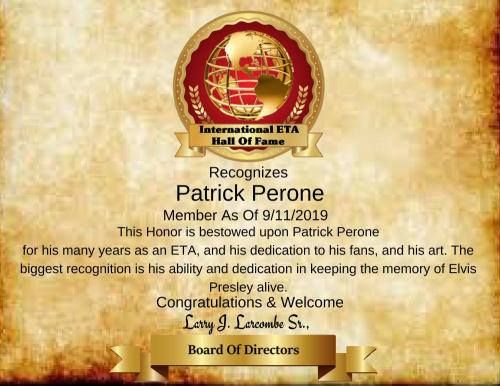 Patrick Perone's incredible tribute to ELVIS has made him one of the most sought after and popular ELVIS Tribute Artists in the New York area. Patrick began his ELVIS tribute performances in 2007 by exploding onto the New York  and Westchester County music scene with his authentic and fantastic tribute to ELVIS. His audience response was immediate. Patrick Perone  New York ELVIS Tribute Artist became the talk of the town instantainiously. The feedback from Patrick audiences is" Patrick has a phenominal ELVIS like vocal ability", exciting and high energy show!

        Patrick's choreograghed production and re - creation of an ELVIS concert is pure perfection. Patrick is not an impersonator but a true "ELVIS" Tribute Artist which has taken him from Westchester to Manhattan, Long Island to Rhode Island, Rockland County to Orange County, Massachucetts and Connecticut and Florida just to name a few. 
      Patrick can perform with professional high quality backing sound tracks or with his live band "The Blue Suede Rockers".
      
     
       PATRICK HAS PERFORMED IN NUMEROUS SHOWS THAT HAVE INCLUDED SUCH ARTISTS AS: 
       THE CUTTING ROOM NYC AUG 11TH 2022
       KENNY VANCE AND THE PLANOTONES  
       CLASSIC SOUNDS  
       THE DUPREES         
       THE EMOTIONS
       WILLIE WINFIELD AND THE HARPTONES   
       BILL HALEY'S COMETS         
       STRAWBERRY FIELDS ( BEATLES TRIBUTE ) 
       TICKET TO RIDE (BEATLES TRIBUTE)       
       THE NEW YORK RAT PACK      
       JIVE FIVE     
      "YO" VINNY AND THE BRONX WANDERERS      
       BUTCH BARBELLA ( STREETS OF THE BRONX )        
       THE LEGENDARY TEENAGERS         
       BARBARA HARRIS ( THE TOYS )      
       BOBBY PALERMO (NEIL DIAMOND TRIBUTE)

       2014  PATRICK PERFORMED FOR THE PRINCE OF MOROCCO AT HIS HOME

        PATRICK HAS ALSO MADE FREQUENT APPEARANCES ON THE DENNIS DION NARDONE RADIO SHOW ( WVOX 1460AM  )     
  OTHER PERFORMANCES INCLUDE :
FLEET WEEK 2016 ROCK'N THE TROOPS
THE WILLIS REPORT WITH GERRI WILLIS , FOX BUSINESS NETWORK(TV PROGRAM)
            CENTURY VILLAGE THEATER, DEERFIELD BEACH FLORIDA
            THE PALACE THEATER, KINGS POINT. TAMARAC FLORIDA
            THE THEATER AT SUNRISE LAKES, SUNRISE FLORIDA
            SARATOGA SPRINGS N.Y. CASINO
           THE SITNIK THEATER NJ
           THE VINNY VELLA SHOW
          THE HILTON HOTEL CASINO, ATLANTIC CITY N.J.
          EMPIRE CITY CASINO, YONKERS N.Y.
          LAKE GEORGE FORUM - ELVIS FEST 2007
          GRAMERCY THEATRE NEW YORK CITY AS PART OF VINCENT PASTORE'S ( FROM THE SOPRANOS )  RAT PACK REVUE SHOW          
          BALLY'S CASINO, ATLANTIC CITY N.J. 2013 , Borgata casino Atlantic city 2018 silver lake  Summer Concerts, Greenwood LAKE Summer Concerts, Orange County Fair New York
       AUDIENCES FROM ALL OVER ARE RAVING ABOUT PATRICK'S ELVIS TRIBUTE SHOW AND HIS FAN BASE IS SPREADING LIKE WILDFIRE! THIS IS A SHOW WHICH SHOULD NOT BE MISSED!! 97,912 VISITS CAN'T BE WRONG!!!